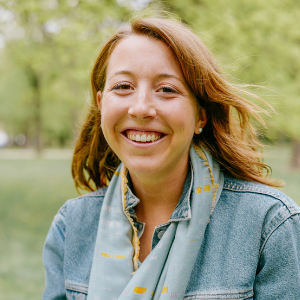 Jen Dillon
Responsible Business Leadership Fellow/ International Tax Accountant PricewaterhouseCoopers
Bio
Jen Dillon grew up in Woodstock, Illinois surrounded by agriculture and regularly attended the city farmer's market to enjoy fresh berries and peak season produce but never truly realized the importance of supporting local until she attended the University of Wisconsin - Madison. While there, Jen received her Masters in Tax Accounting but also spent a great deal of time in the Madison community learning about the importance of local, sustainable food systems and how we can better support our farmers.
When she moved to Chicago in 2017 to start her career as a CPA at PwC, Jen knew she wanted to find a way to continue to support her local food communities and was thrilled when she found herself stumbling across Green City Market one autumn morning. After volunteering at Club Sprouts during a few of the markets and attending A Mostly Veggie Affair, Jen decided she wanted to commit to doing more and applied to being on the Associate Board in 2018.
Jen's passion for the market, the farmers, and the community of chefs, shoppers, and supporters of GCM is more spirited than ever. Please stop her if you see her at the market to share a favorite market story or recipe you've been cooking from you favorite farmer's winter spinach, garlic scapes, peaches, etc. — she's always excited to celebrate what makes GCM and its vendors so special.